This is an extension of my normal blog, www.therebelrouser.com. Greaser culture, hair, music, lifestyle, rockabilly music, fashion, and a whole lot more. As well as my affinity for pomade. Not that drug store brand, but that greasy shit that holds your pompadours, coats your pillows and sticks to your Levis. As much as I, or any guy likes to look at pin-ups, you won't be seeing much of that around here. So no Bettie Page copycats, skinny-jean-wearing models (unless I'm making fun of it, of course,) or zombie bullshit. Big body American made cars and trucks, full pompadours, and beer. Unless stated otherwise, I do not own or claim to own the photos I post up. The source will be named or linked to. And for those who care about their pictures being used on the internet, make a private photobucket or flickr account. It's not that hard.
About The Rebel Rouser
Ask me anything
Submit
December 24, 2012
The Rebel Rouser
November 15, 2012
I mean… Why wouldn't you?
Instagram: TheRebelRouser
If I ever get 1000 followers on there, I'll do a giveaway. Which reminds me, I'm long overdue to do one on here…
May 8, 2012
I know what you guys are thinking… "WHAT THE FUCK!?"
I know, I know… I thought the same thing. But, it makes sense… Now, a lot of you fellas (and ladies) got problems with your pomps splitting, uneven coating, or just really don't know how to apply pomade. Most of y'all want to point fingers at the pomade you're using… and for the most part, it's not the products fault, but the user. So, hopefully this will help you folks figure out what's missing in your styling repitoir, and will get you the pomp you've always wanted.
March 25, 2012
New school meets old school- Stiffies Pomade w/ Blue Magic Pressing Oil. (Taken with instagram)
March 15, 2012
Hey folks, I finally got around to making another video.

Todays video, is about combing a sharp part. When you see someone with a sharp part, you know they care about their hair and know what they're doing. Most of the times, when you see someone with a part, it's usually crooked and just a sloppy mess. Chances are, whenver you've seen them with a clean-sharp part, their barber or hairstylist probably did it for them!

Well, to make things easier, I'll be giving you cats a few tips on how to get that clean part you've always wanted. Unfortunately, the combs I planned on using, weren't in my bathroom. But, do not fret, I still gave you all a few different ways to get that part.

Hope y'all dig it!
December 27, 2011
@Surffun
NOTE: REAL sorry for the delay on this post! I could've sworn I had published it earlier.

Here's a pic of my D.A. I didn't slick it down tightly, so you can get a picture of how it could form/flow.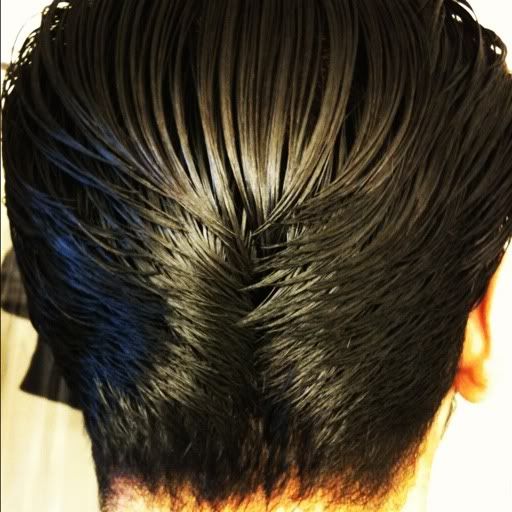 I don't have it come together at the top, because it gives me a weird profile. But depending on the shape of your skull, you may be able to have it come together a little higher up. I didn't drag down my comb through the center, to show how it'll look prior to adding that finishing touch.

It'll be hard to get the top/crown of your head to be slicked tightly, while trying to get your ducktail to flow into it. Trying to comb it to flow together, just won't happen.

My tip: slick down the crown first, then have the ducktail flow over it. You can do it the other way around, but you won't get them directly in the center. Which is fine, Elvis didn't always have them meet directly in the center, but it's up to you.



December 27, 2011
Black Magic has one of the coolest, yet, most simple tin design. Easily one of my  favorites. But does the awesome tin mean there's an awesome product inside? Click the pic to find out!
November 26, 2011
I look funny… and tired as fuck…
October 16, 2011
This didn't go through to Tumblr the other night, for whatever reason…
October 4, 2011
Two products, one review?

Click the pic to find out why!